Pseudorabies virus (gB) PCR-deteksjonssett
Produkt detalj
Produktetiketter
Pseudorabies virus (gB) PCR Detection Kit (Lyophilized)
48tester / kit, 50tester / kit
Dette settet bruker sanntids fluorescerende PCR-metoden for å oppdage RNA fra Pseudorabies-virus (gB-gen) (PRV) i vevssykdomsmaterialer som mandler, lymfeknuter og milt og flytende sykdomsmaterialer som vaksine og blod fra griser. Det er egnet for påvisning, diagnose og epidemiologisk undersøkelse av Pseudorabies-virus (gB-gen). Settet er et ALL-READY PCR-SYSTEM (lyofilisert), som inneholder DNA-amplifikasjonsenzym, reaksjonsbuffer, spesifikke primere og sonder som kreves for fluorescerende RT-PCR-deteksjon.
Komponenter
Pakke
spesifikasjon
Ingrediens

PRV PCR Mix

1 × flaske (lyofilisert pulver)

 

50Test

dNTP, MgCl2, Grunning

, Prober, Taq DNA-polymerase

6 × 0,2 ml 8 brønnrør

(Lyofilisert)

48Test

Positiv kontroll

1 * 0,2 ml rør (lyofilisert)

 

10Tester

Plasmid eller Pseudovirus som inneholder PRV (gB) spesifikke fragmenter

Oppløsningsløsning

1,5 ml Cryotube

500 ul

/

Negativ kontroll

1,5 ml Cryotube

200 ul

0,9% NaCl
(1) Settet kan transporteres ved romtemperatur.
(2) Holdbarhet er 18 måneder ved -20 ℃ og 12 måneder ved 2 ℃ ~ 30 ℃.
(3) Se etiketten på settet for produksjonsdato og utløpsdato.
(4) Reagenset for lyofilisert pulverversjon skal oppbevares ved -20 ℃ etter oppløsning, og den gjentatte fryse-tine bør være mindre enn 4 ganger.
GENECHECKER UF-150, UF-300 fluorescens PCR-instrument i sanntid.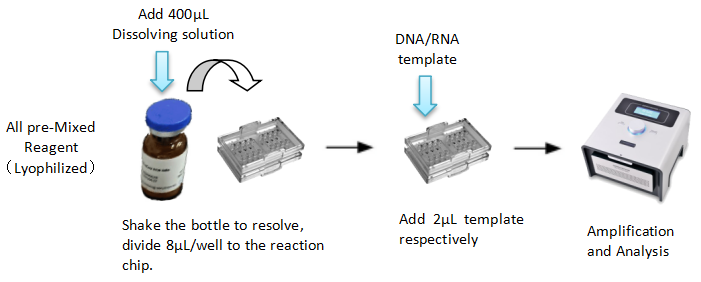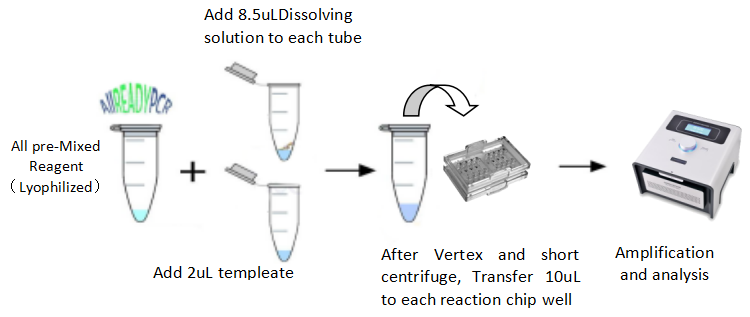 Anbefalt innstilling
Steg

Syklus

Temperatur (℃)

Tid

Fluorescens kanal

1

1

95

2min

/

2

40

95

5s

/

60

10-tallet

Samle FAM-fluorescens
* Merk: Signalene fra FAM-fluorescenskanaler blir samlet ved 60 ℃.
Kanal

Tolkning av resultater

FAM Channel

Ct≤35

PRV (gB) Positiv

Angre

PRV (gB) Negativ

35<Ct≤40

Suspicious resut, retest*
*If the retest result of FAM channel has a Ct value ≤40 and shows typical "S" shape amplification curve, the result is interpreted as positive, otherwise it is negative.
---
---